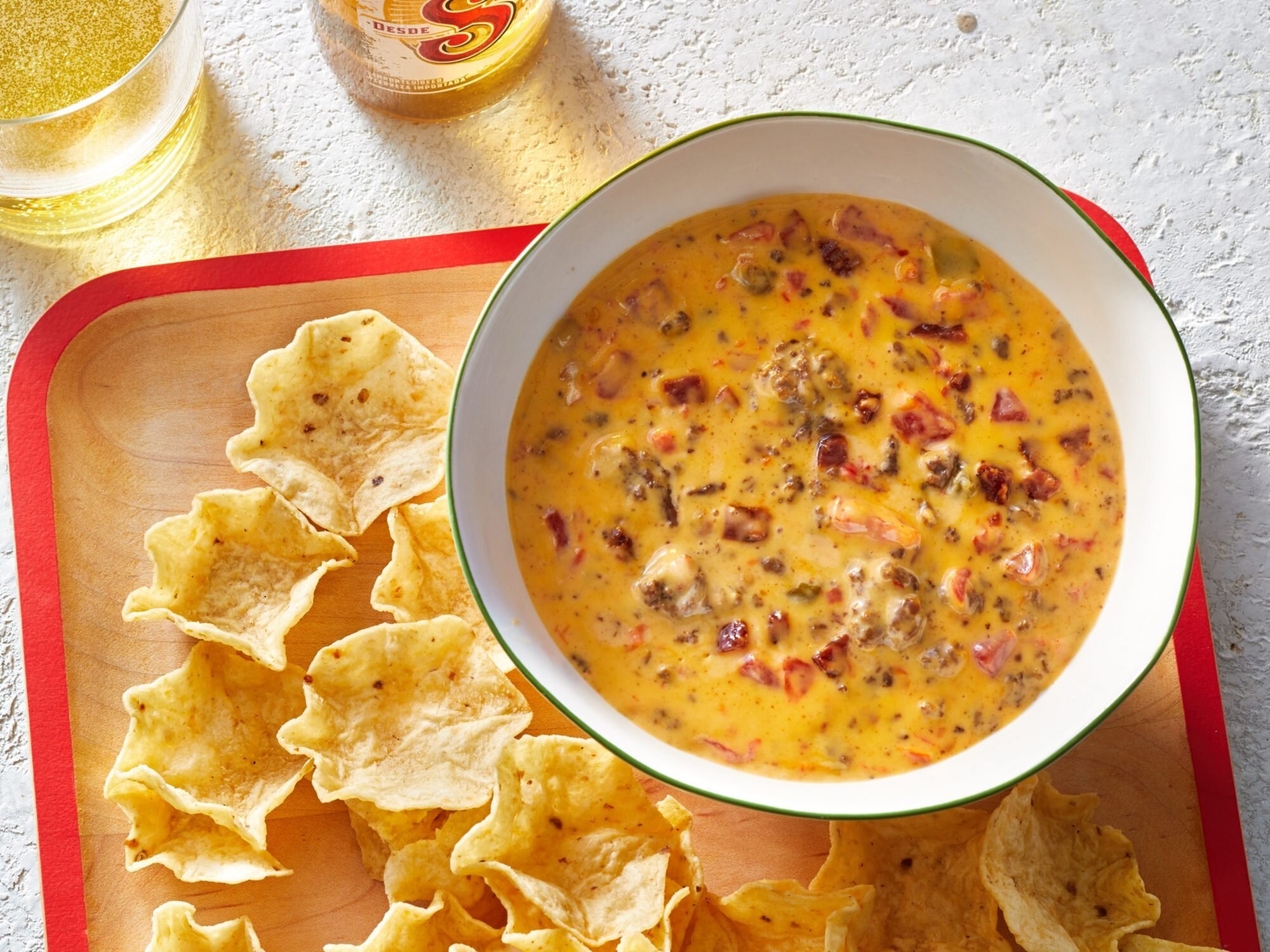 Credit: Caitlin Bensel
Football season is here and we could not be more excited! Not only do you finally get to enjoy football season from the comfort of your very own Acero Jensen Park apartment home, but you also get to enjoy delicious snacks fresh from your kitchen. Football season is fun for everyone, whether you're there for the game, the snacks, or both. We've found some delicious game-day recipes that you need to whip up this season!
Ingredients
2 tablespoons olive oil

12 ounces ground beef

8 ounces dry-cured Spanish chorizo, finely chopped

2 pounds processed cheese (such as Velveeta), cubed

2 (14-oz.) cans of diced tomatoes and green chilies (such as Rotel)

½ teaspoon crushed red pepper

Tortilla scoops, for serving

Directions
Heat oil in a large skillet over medium-high heat. Add beef and chorizo; cook, stirring often to crumble beef until browned, 6 to 7 minutes. Transfer meat to a plate lined with paper towels; drain 5 minutes. Transfer to a 6-quart slow cooker; stir in cheese, tomatoes-and-chiles, and crushed red pepper. Cover and cook on HIGH, stirring occasionally until cheese is fully melted and sauce is smooth about 1 hour. Turn slow cooker to WARM; serve with tortilla scoops.
Ingredients
8 ounces pre-shredded low-moisture mozzarella cheese (about 2 cups)

1 (5-oz.) pkg. mini pepperoni

3 ounces fresh Parmesan cheese, shredded (about ¾ cup), plus more for garnish

½ cup chopped fresh basil, plus more for garnish

¼ cup chopped fresh flat-leaf parsley

2 tablespoons chopped fresh oregano

2 tablespoons olive oil

2 teaspoons grated fresh garlic

2 (16-oz.) cans refrigerated biscuit dough

1 cup jarred marinara sauce, warmed
Directions
Preheat the oven to 325 degrees. Stir together mozzarella, pepperoni, Parmesan, basil, parsley, and oregano in a large bowl. Combine oil and garlic in a small bowl, and drizzle over the cheese mixture. Cut biscuits into quarters; add dough pieces to the cheese mixture, and toss gently to coat. Transfer mixture to a lightly greased nonstick Bundt pan, and bake in preheated oven until top is golden and wooden pick inserted in center comes out clean, 45 to 50 minutes.

Let the bread rest in the pan for about 5 minutes. Remove bread from pan, and garnish with additional Parmesan and basil. Serve with marinara sauce.
We can't wait to hear how all of your delicious game-day recipes turn out. You can find more of these game-day recipes at Southern Living. As always, after making these recipes be sure to snap a picture and share it with us on Instagram and Facebook.